Our Lodge Our lodge and cabin is rented by the week or day. You and your friends and family can stay in our brand new, state-of-the-art luxury log cabin located on more than 200 acres of rugged Northern British Columbia wilderness.
Stay in Comfort at our Lodge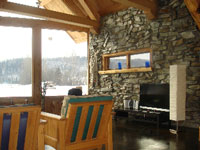 Our lodge features modern amenities such as a six-burner stove, side-by-side refrigerator, dishwasher, satellite TV, wireless internet and local interest movies.
Our lodge sleeps 6 comfortably but can sleep up to 8 - 10 in our four large bedrooms with 2 king, 1 queen and 4 single mattresses. Prices based apon weekly lodge rentals.
Our Cabin offers a great stay.
Our cabin is a one bedroom comfy cabin with some modern amenities. Hot water, stove, shower, 36" DVD TV to name a few. This cabin sleep four with two single bunk beds and queen bed.
Catered to Self Catered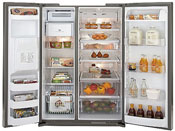 Cook meals for yourself in the fully-stocked kitchen or have it prepared for you - we offer dinner options such as Thai, Dutch, Asian and Indonesian cuisine. We also offer grocery shopping, packaged lunches and beverages.
Activities and Rentals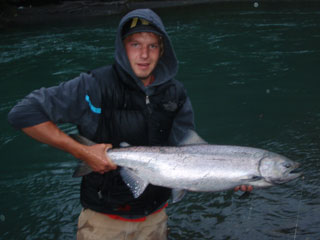 At Last Dollar Ranch we offer boat, truck, snowmobile and ATV rentals to our guests. We are central to many outdoor pursuits such as hiking, fishing, wildlife viewing and more.
Our Location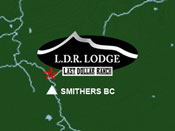 We are located 30 minutes form Smithers, B.C., Canada. Many amenities and activities are nearby to make your stay exceptional.